Villas & Xeriscapes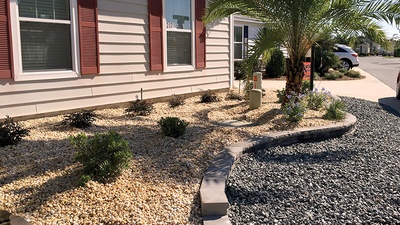 Xeriscape is a complicated sounding word for a very wise and straightforward concept. In a nutshell, xeriscaping is water-efficient landscaping that's appropriate to the natural environment. The word xeriscape comes from the Greek word xeros, which means dry. In other words, it's landscaping for people without a yard like those that live in Villas.
The goal of xeriscaping is to create a visually attractive landscape that uses plants selected for their water efficiency. Xeriscapes can save a tremendous amount of water. An established, properly maintained xeriscape needs about one-third the water of a traditional turf-based landscape. Some xeric plants require almost no supplemental watering once they are established. An established xeriscape also requires less maintenance than a traditional landscape.
Contrary to popular misconception, xeriscape does not mean rocks. Florida has a wide variety of water-wise plants. Some of these plants are perfect for adding year-round greenery and texture. Other native plants are great for adding a splash of seasonal color.
Transform your yard into a beautiful xeriscape and call Mansfield Landscaping, who specializes in native and xeric gardens.