Pavers, Patios and Water Features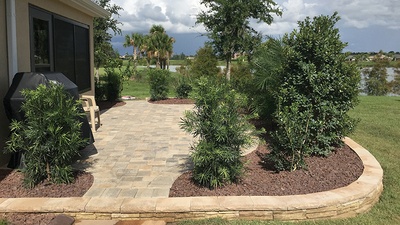 Paving stones define beauty, elegance, and durability for driveways, pool decks, walkways, and patios. A properly installed paving stone driveway by Mansfield Landscaping won't crack, sag, shift or separate. It will keep looking fantastic for generations, and if it ever becomes stained or marred by paint or oil, it can be repaired quickly and easily. Individual stones can be replaced with matching ones so that the surface looks precisely as it did before the accident occurred. This is impossible with any other type of pavement.
The large range of colors and patterns available makes customized design possible for any courtyard, patio, deck, or driveway. Mansfield Landscaping will work with you to create the perfect match for your project, whether it is patio pavers for your deck, or a complete landscape design to complement your new paving stone driveway and walkways.
Advantages of Paving Stones
Paving Stones Increase Property Value
4x Stronger Than Concrete
Much Cheaper to Repair
Better Weight Distribution
Remarkable Elegance and Beauty
Good Long-Term Investment!
Disadvantages of Concrete Driveways
Cracked Concrete Driveways Lower Home Value
Concrete Strength Is Inferior to Paving Stones
Can't Repair Concrete Without Ugly Scarring
Does Not Flex Well Under Stress
Bland And Dull-Looking Driveways
Concrete Will Cost You More In The Long-Run