Irrigation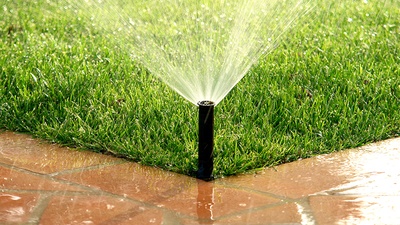 Mansfield Landscaping offers not only sprinkler repair services, but we also provide sprinkler system upgrades which can not only help save you money on your water bill but help you go green and keep Florida (and your lawn and garden) beautiful. We take all the guesswork out of repairing and installing lawn irrigation and plant irrigation systems in your yard.
Sprinkler Repair
Mansfield Landscaping offers affordable prices, quality products, and dependable service! The advantage of using Mansfield Landscaping is that with a straightforward change, we give you a lot of benefits, like saving money, water, and time. We also anticipate decreased liability and reduced system wear and tear. Our installers meet all industry regulations and environmental challenges while providing a lush landscape that all can enjoy. That's a lot of payback for just changing a nozzle!
Benefits Of An Automatic Sprinkler System
An automatic sprinkler system always makes a home improvement side project worth considering. Not only will it help maintain a healthy, beautiful landscape which you can enjoy with your friends and family. The most convenient and efficient way to ensure your yard gets the water it needs without over-or under-watering is with the self-regulated new system. When it is properly installed and maintained an automatic sprinkler system will help conserve water and grant you the yard you have always wanted.
Owning A Sprinkler System Does Save Time!
You don't need to spend more time watering the lawn, especially since the ideal watering time is at 4:30 am. Your new system will do all the watering for you, even when you're not home!
Why are my Sprinklers Broken?
Broken PVC pipes
Leaking valves
Troubled wiring
These are just a few of the reasons, call for your free estimate TODAY!
Be Proud of Your Lawn and Garden
Would you like to reduce your water bill, save water, and still maintain a healthy lawn and garden? With Mansfield Landscaping, it is easy to do it all. Mansfield Landscaping offers the most diverse, durable, and water efficient components in the industry. By installing a new sprinkler system upgrades or by switching out a few parts to your old system, you can easily save water and maintain a great looking lawn and garden. For current automatic sprinkler owners, significantly reducing your water usage might be as simple as having one of our certified installers pressure regulating devices or replace your existing spray nozzles with more efficient spray nozzles.
For homeowners considering a new automatic sprinkler system, our installers can design and install a system that provides precise and water efficient coverage, using our quality parts. Either way, the cost is minimal compared to the time, money, and water saved by a water-efficient system, not to mention the pride and enjoyment in having a beautiful lawn and garden.
Common Replaced or Upgraded Parts
Timers
Controllers
Sensors
Moisture Sensors
Repair Kits
Replacement Parts