Palms, Trees & Shrubs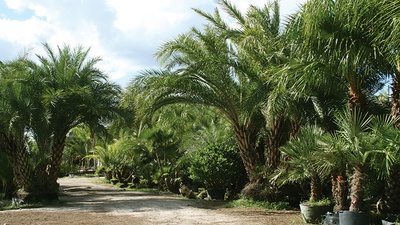 The plethora of plants, trees, and shrubs available can make selecting those that suit both the location and style of your space seem a daunting prospect. Planting design is about correctly placing and balancing quantities of plants and seeking to create the beautiful image you hold in your mind's eye. Let us wow your garden guests or provide respite after a busy day.
Our fully stocked Nursery carries a vast selection of specimen quality trees, palms, and shrubs to enhance landscape, garden, and home. From deciduous flowering trees to palm trees, shade or ornamental varieties, we can help you select the perfect tree for your environment. When it comes to shrubs, we carry a broad spectrum that reflects the Florida landscape providing natural beauty and definition to your property. Our changing inventory and design assistance can help you to select the right plant for the right location that will give you lasting aesthetic enjoyment.
Tree Planting
Palm Tree Planting
Shrubs
Groundcovers
Vines
Privacy Hedges
Exotic & Tropical Plant Installation
Flower Bed Construction
Please feel free to visit our complete nursery and landscaping showroom located at 8440 County Rd 48, Yalaha, FL 34797. We are open Tuesday through Saturday, 9am - 5pm.